When your house sign does not need to be freestanding, our custom house signs are the perfect answer. We can provide all the necessary fixings that you require. The house sign can be made to virtually any size so that it fits into a whole range of different locations.
We can make a custom house sign which can be fixed directly to your wall, fence or gate. Our entire range of signs can be made to be wall mounted. They include a Slate House Sign, Wooden House Sign, Corten House Sign, Stainless Steel and finally a Painted House Sign with engraved lettering. The painted and engraved house signs can be painted any Farrow and Ball colour with a dark, oak or white engraving.
Our wall mounted metal house signs arrive with a folded edge on all sides. The reasons for this are twofold. Firstly, it allows us to integrate a hidden fixing into the underside of the sheet metal fold – avoiding any unsightly screw heads on the face of the metal house sign. Secondly, it provides a shadow gap behind the cut out lettering, making the custom house sign clearly legible. This three dimensional custom metal house sign has a far more quality aesthetic than the one dimensional alternative.
Our Wall Mounted Custom House Signs can be made to a large variety of sizes, from our smallest size of 300mm x 100mm, up to a very large house sign, measuring 900mm x 500mm. We are proud to be one of the few sign making companies who can make very large slate house signs. The largest slate house sign we can offer online is 900mm x 500mm. If you wish to make your sign larger still, please contact us and we will be able to accommodate. Our large slate house signs are delivered on a pallet in order to guarantee safe delivery.
Fixing your Wall Mounted House Sign
There are three ways in which we can help to fix your wall mounted house sign.
We can do nothing and let you fix the sign yourself
We can pre-drill screw holes for you in our workshop and supply stainless steel screws with colour coded screw caps. The screw caps then conceal the stainless steel screw head once the sign is installed to your wall, fence or gate.
We can provide a hidden fixing method. The hidden fixing method we use is from Button Fix. We cut out a pocket in the workshop to allow the fixing to be screwed flush to the rear of the house sign. On arrival, the green button is screwed to your wall and then the fixing interlocks. Just push the fixing together until it snaps shut. Once the fixing has been snapped together, it requires some force to separate, and can only be lifted if you know how the button fix works.
VARIOUS CUSTOM SIZE OAK, SLATE, METAL AND PAINTED CUSTOM HOUSE SIGNS AVAILABLE
Quality Handmade Custom House Name Signs
Our Custom House Signs are made in their entirety within our Devon based workshop. For our wooden house signs, we machine the rough sawn timber to its required size, engraving the house sign and hand paint the engraving before we apply a finish in our purpose built spray booth. Our wooden house signs are cut square, and the edges are rounded off to create a smooth and tactile finish. For the slate house signs, we cut the large slate blanks to size and engrave the slate before painting in the engraving. With our custom metal house signs, we do all the metal folding and welding in our workshop.
Regardless of the intended location of your house name sign, or it's material, we believe our custom house signs are of a superior quality than anything else on the market. The price is dependent on size and there is no limit to the number of letters we can engrave into the sign. For this reason, we also believe they are very competitively priced when you consider the quality of the finished product.
This traditional looking house sign can be used in a variety of situations and environments to great effect. Please choose from the options below to start designing and order online today.
We are confident that you can design the custom house sign you have always wanted with our online sign builder. However, as always, we will always try and cater for bespoke house sign commissions. Please get in touch if this is something you would prefer.
Please contact us if you'd like something a little different.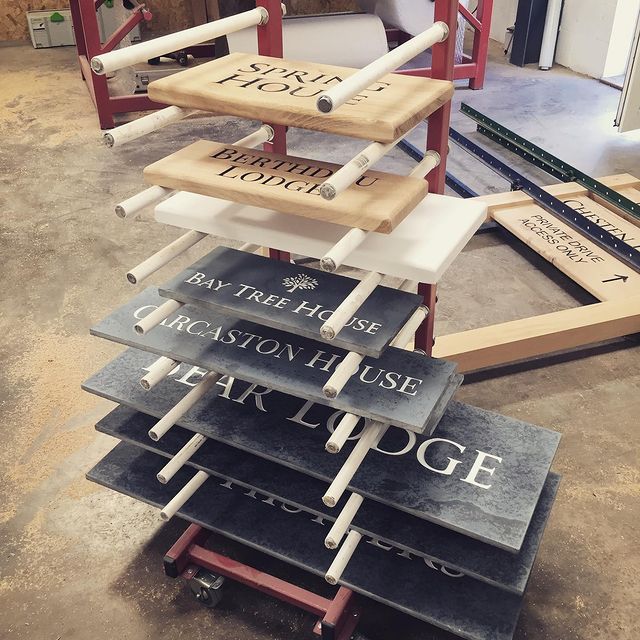 Design Your Own Sign
Using the above options, you can make the sign that you want, right down to adding your own text.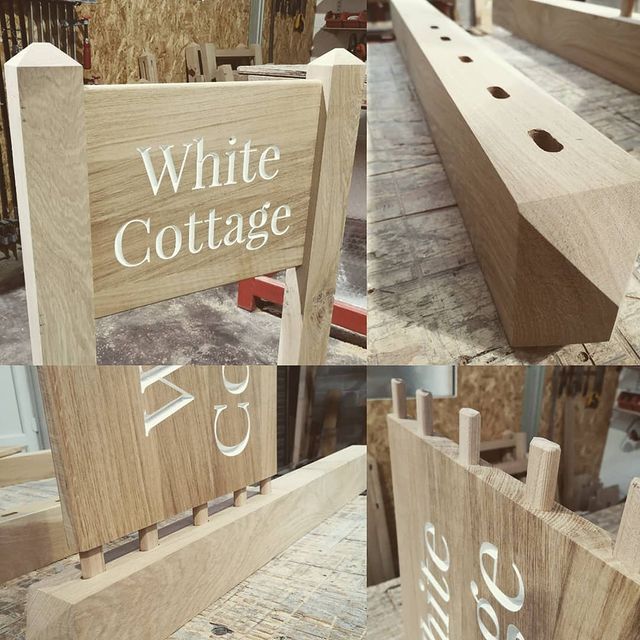 Built To Order
We design and build all of our signs to order, so everything is unique.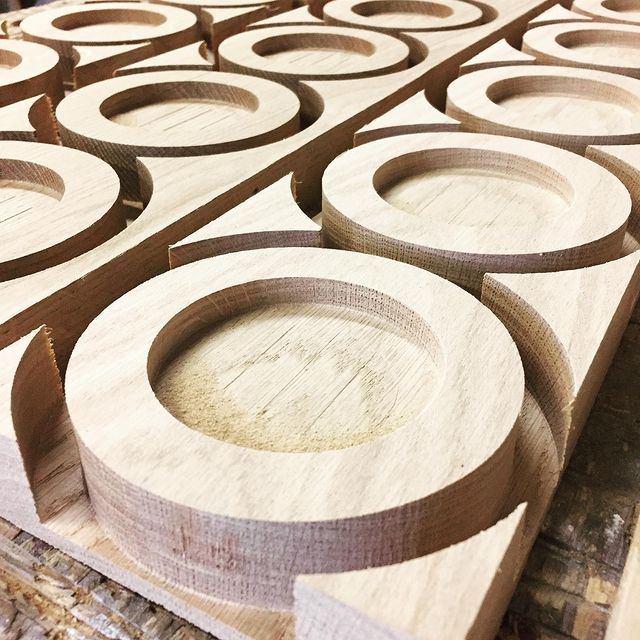 Need to ask a question?
rather chat? Just get in touch on our contact page, or give us a call on 07838 230131
After a different option?
We have lots of custom made sign options in the top menu.
Whether it's a hanging sign, double post, or single post sign – we can make it.
Best of all, with our online sign builder, you can create the sign that you want in the material and engraving of your choice.