We specialise in making a whole variety of Double Post Sign. These are perfect in situations where your house sign needs to elevated above some vegetation, usually at the end of a property driveway.
Our double post house signs can be split into three categories; wooden house signs on posts, slate house signs on posts and metal house signs on posts. The wooden house signs on posts can be further divided into two: natural oak signs with matching oak posts, or painted and engraved hardwood signs on posts. We usually paint our painted and engraved house signs in white, but we can also paint them in any Farrow and Ball colour. We can also make the double post signs with an engraved slate house sign and combine this with oak posts either side. Finally, we very often make metal house signs on posts. The metal signs we provide can be made from Corten, or Stainless Steel. The Corten house signs are designed to develop a rusty patina. In contrast, the Stainless Steel house signs will not corrode but stay in their 'out of the box' condition indefinitely.
For our wooden and slate double post signs, we use mortise and tenon joinery and oak pegs to fix the house sign itself to the oak posts either side. In contrast, for the metal double posts signs, we fold the edges of the metal house sign and screw this folded return to the inside of the oak posts. This provides a very strong and attractive solution where a mortise and tenon joint cannot be used. Stainless steel fixings and colour coded screw caps are provided to conceal the stainless steel screw head.
Regardless of the intended location of your double post sign, or it's material, we believe our double post signs are of a superior quality than anything else on the market. The price is dependent on size and there is no limit to the number of letters we can engrave into the sign. For this reason, we also believe they are very competitively priced when you consider the quality of the finished product.
You are able to make all of our double post signs double sided in our online sign builder (below). This means you can set the sign perpendicular to your property entrance. Ensuring the sign can be seen by oncoming traffic arriving from both directions.
If you decide on a painted and engraved double post house sign, please note the entire sign will be painted. This includes the sign itself and the posts either side.
This traditional looking house sign can be used in a variety of situations and environments to great effect. Please choose from the options below to start designing and order online today.
HANDMADE QUALITY OAK, SLATE, METAL AND PAINTED HARDWOOD SIGNS WITH DOUBLE POSTS
Quality Handmade Double Post House Signs
Our Double Post House Sign's are made in their entirety within our Devon based workshop. This includes engraving the house signs itself, to sheet metal folding and welding (where applicable), and all the related joinery when fixing the posts either side.
Within our online sign builder, the oak post's either side of the house sign can be cut to a maximum length of 2500mm. We are confident that this should be more than high enough to ensure the sign is clearly visible. We have allowed the option of having this maximum post length so that it there was an obstacle in front of the intended double post sign's location, the sign itself can be sure to stand above the obstacle and be clearly visible.
Installation of your double post sign is very easy. Upon arrival, just dig two holes to your required depth for each post and secure the posts in place with OSMO Postfix (available within our online sign builder). If you would like to read a dedicated blog post which we wrote on the installation of our freestanding house signs, please click here.
We are confident that you can design the double post sign you have always wanted with our online sign builder. However, as always, we will always try and cater for bespoke house sign commissions. Please get in touch if this is something you would prefer.
Please contact us if you'd like something a little different.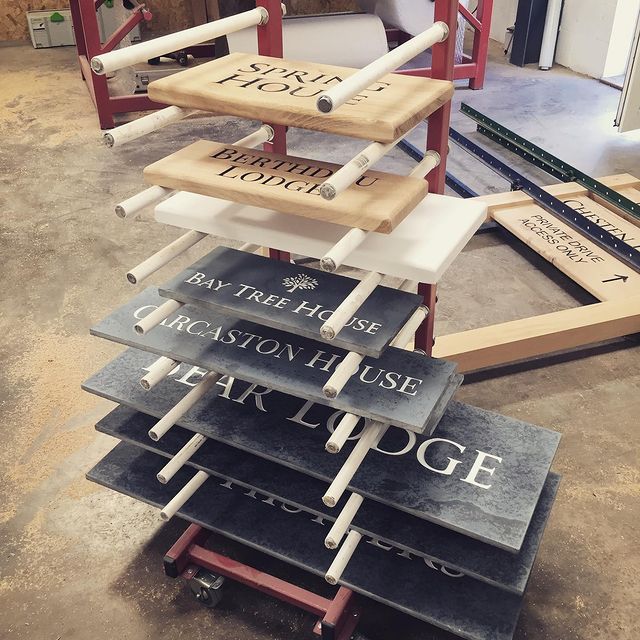 Design Your Own Sign
Using the above options, you can make the sign that you want, right down to adding your own text.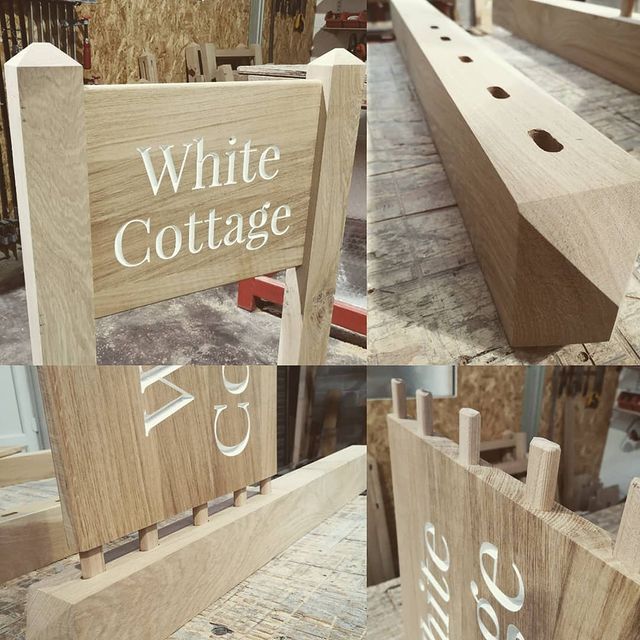 Built To Order
We design and build all of our signs to order, so everything is unique.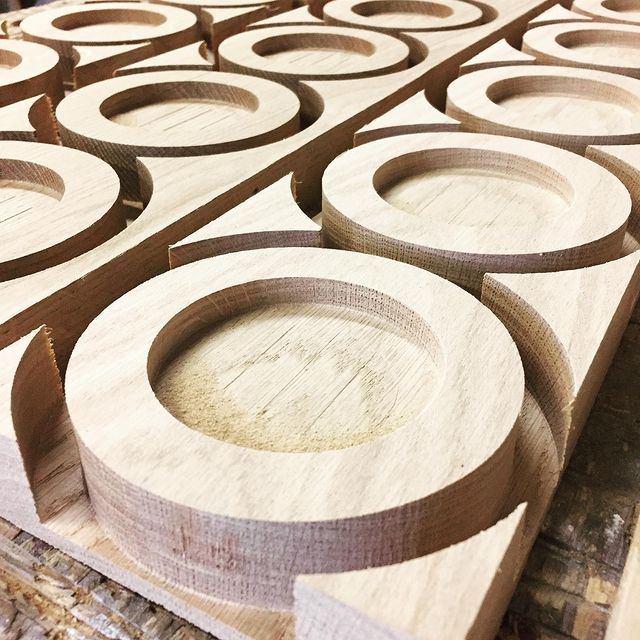 Need to ask a question?
rather chat? Just get in touch on our contact page, or give us a call on 07838 230131
After a different option?
We have lots of custom made sign options in the top menu.
Whether it's a hanging sign, double post, or single post sign – we can make it.
Best of all, with our online sign builder, you can create the sign that you want in the material and engraving of your choice.