Hanging House Signs with Oak Posts
Our Hanging House Sign's are fast becoming our best seller. Most commonly, our Hanging House Signs are used in situations where the House Sign itself needs to be elevated. This doesn't have to be the case though. It is not uncommon for customers to ask us to make a hanging sign with a shorter post and fix it in place to a height more commonly expected with one of our double post signs.
Regardless of the intended location of this sign, we believe our hanging house signs are of a superior quality than anything else on the market.
You are able to make the hanging sign double sided below. This means you can set the sign perpendicular to your property entrance. Ensuring the sign can be seen by those arriving from both directions.
If you decide to opt for a painted and engraved hanging house sign, please note the entire sign will be painted. This includes the sign itself and the hanging post.
This traditional looking sign can be used in a variety of situations and environments to great effect. Please choose from the options below to start designing and order online today.
VARIOUS CUSTOM SIZE OAK, SLATE, METAL AND PAINTED HANGING HOUSE SIGNS AVAILABLE
Quality Handmade Hanging House Signs
Our Hanging House Sign's are made in their entirety within our Devon based workshop. The design of these signs is based upon the traditional 'Gallows Style' hanging signs which we are all familiar with. The horizontal oak arm is fixed to the vertical oak post with mortise and tenon joinery. In order to provide further strength, an oak brace is fixed to the vertical post to the underside of the horizontal arm. Within our online sign builder, the hanging post can be cut to a maximum length of 250cm. We are confident that this should be high enough to ensure the sign is clearly visible. If you would rather the hanging post was longer than this, please get in touch.
Marine grade stainless steel eyes and shackles are provided with the hanging house sign. These guarantee a very secure fixing between the horizontal arm and the sign which is suspended beneath. This fixing ensures that even this the stormiest of weather, we guarantee that the sign will not become detached from the hanging post.
Installation is very easy. Upon arrival, just dig a single hole to your required depth for the hanging post and secure this in place with Postfix (or similar). Once the hanging post has been given enough time to set, suspend the sign with the stainless steel fixings provided. If you would like to read a dedicated blog post which we wrote on the installation of our freestanding house signs, please click here.
We are confident that you can design the hanging house sign you really want with our online sign builder. However, as always, we will always try and cater for bespoke hanging house signs. Please get in touch if this is something you would prefer.
We can also offer custom options, along with our online sign designer – enabling you to create the hanging house sign you want.
Please contact us if you'd like something a little different.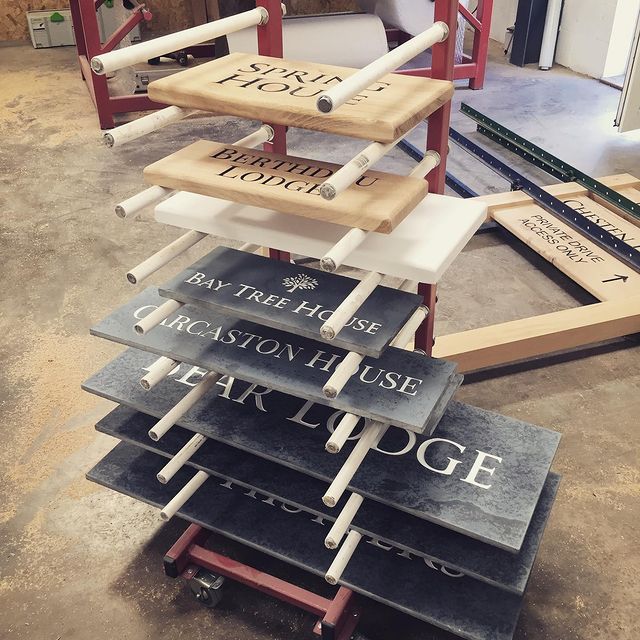 Design Your Own Sign
Using the above options, you can make the sign that you want, right down to adding your own text.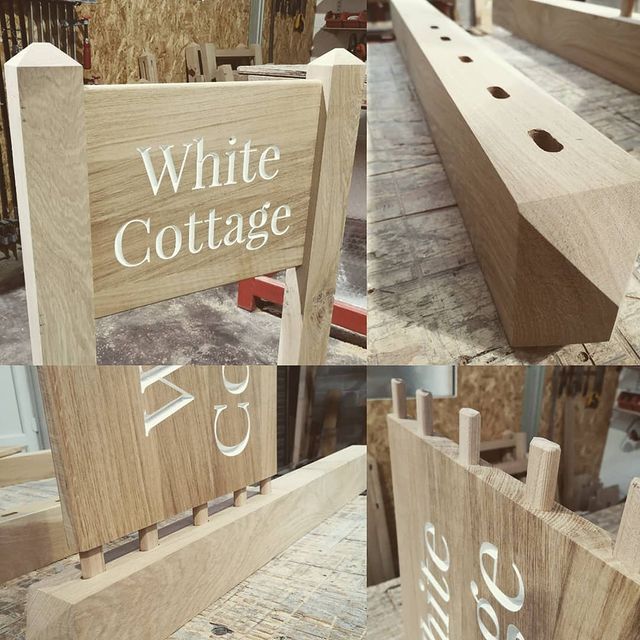 Built To Order
We design and build all of our signs to order, so everything is unique.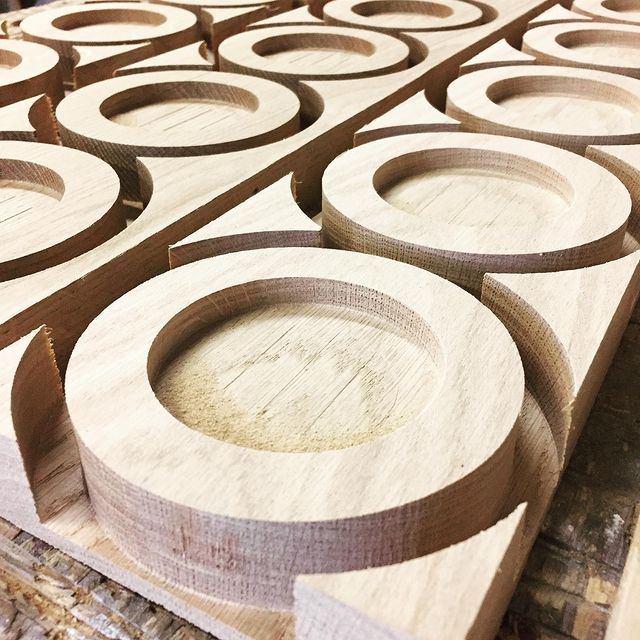 Need to ask a question?
rather chat? Just get in touch on our contact page, or give us a call on 07838 230131
After a different option?
We have lots of custom made sign options in the top menu.
Whether it's a hanging sign, double post, or single post sign – we can make it.
Best of all, with our online sign builder, you can create the sign that you want in the material and engraving of your choice.