Corten signs
The material we use for our Rusty Metal Signs is called COR-TEN, or Corten Steel. The name Corten is derived from the abbreviation COR-TEN. COR refers to corrosion resistance, and TEN refers to tensile strength.
Our Corten Steel Signs make the perfect addition to the entrance of your home or business.
What is Corten?
Corten is a Weathering steel. It is specifically designed to rust by adding alloying elements to Steel. Our Corten Signs invite rust to form on its surface. The rust forms a film which covers the surface of the sign and forms a protective layer. Our Corten Signs are completely maintenance free. You will not need to treat the sign. In fact, the look you are trying to achieve only occurs after several months.
When the Rusted Steel Sign is supplied to your home, it looks just like you'd expect sheet steel to look; black and shiny. Once the Corten sign has been exposed to the elements, the rust gradually takes hold. Firstly, the sign will turn a streaky yellow, which then tones down to orange. After about a year, the Corten Steel Sign will turn a dark-brown colour.
Corten Steel (sometimes known as weathered steel) is a group of steel alloys that are often used in outdoor construction. Corten Steel was designed to eliminate the need for painting and if left outside, exposed to the elements, they will develop a rusted appearance in just a few months.

www.corten.com (2022)
Laser Cut Corten Steel Signs
We use state-of-the-art laser cutting equipment in order to create beautiful rusty metal signs for your home or business. There are three different styles of lettering which we can achieve for you: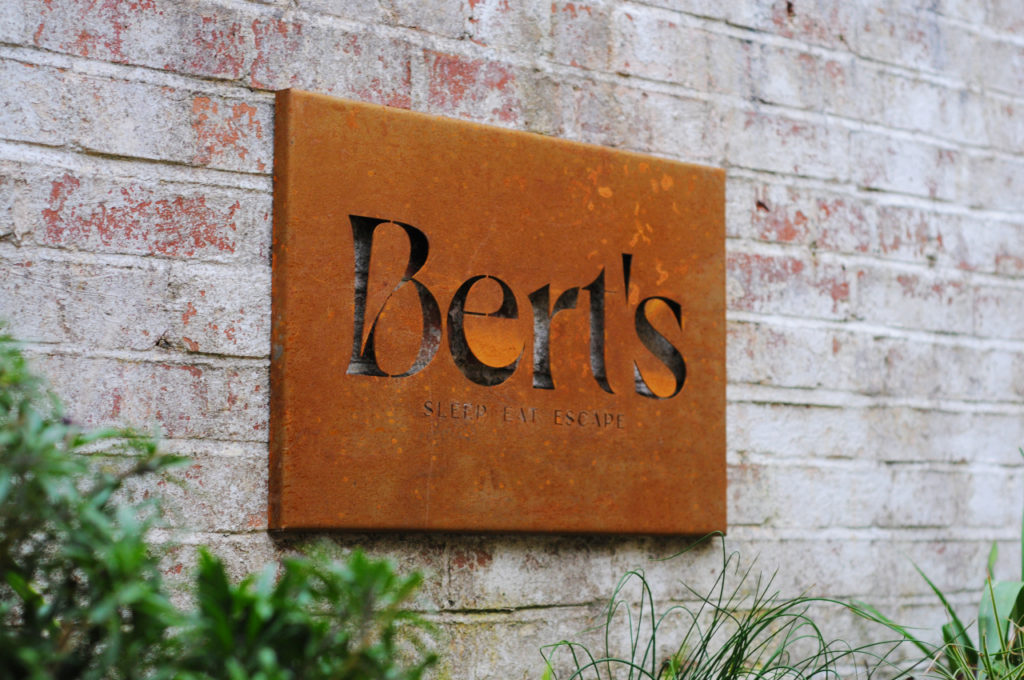 Rustic house signs
Our Rusty Metal Signs create the perfect rustic house sign. Once the rusty patina develops on our Rusty Metal House Signs, the house sign looks completely natural and fits perfectly within its surroundings.
If you decide to make your rusty metal sign freestanding, we do not recommend applying OSMO UV Protection Wood Oil. Without the OSMO UV Protection Wood Oil, the oak posts will silver naturally and look rustic over time. This silvering process usually takes two full winters. The silvered oak posts will then compliment the rusty patina of the Corten sign. By leaving the oak without any OSMO Oil, the oak posts and the Rusty Metal Sign are completely maintenance free.